24/7 Emergency Services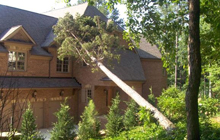 Professional tree service can range from simple hedge trimming to basic tree condition assessment or to more complex emergency storm service and even complete tree removal if necessary.








Tree Trimming and Crane Services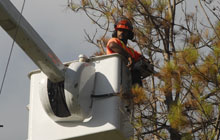 Tree trimming can be as simple as trimming some overgrown branches with a chain saw standing on the ground, or as is usually the case, a bucket truck is needed to get high up into the tree to access awkward trimming points. If there's a risk of branches falling and damaging property then a crane can be used to secure the branch and carry it to a safe location for trimming.
Stump Removal
A specialized machine called a Stumper can be used after a tree faller has cut down a tree so that the stump is almost flush to the ground. The Stumper uses a special rotating blade that passes over the stump from left to right until the entire stump is ground away up to several inches below the surface. This removes any hazard for walking or lawn care. See our stumping video below to see how a stumping machine works.


Cabling and Bracing
In some cases a tree branch can be secured with high strength steel cable to prevent the branch from breaking off during a storm and causing damage. Essentially, the cable or brace limits the movement of the branch during high winds.


Storm Damage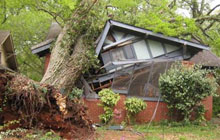 In summer most tree damage during severe weather occurs due to falling trees and limbs, causing power outages, property damage, and even personal injury. During winter, the weight of ice and snow accumulations cause failure of branches and even entire trees. In many cases an assessment by a trained professional can determine weak points in trees that can then be remedied before disaster strikes.






Clean Up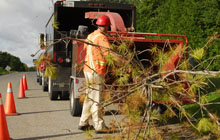 One often forgotten aspect of tree service is the clean up. This is why it's important to make sure the company you hire has the equipment to carry out the necessary removal of all debris from your site. A heavy duty wood chipper can reduce clean up to a minimum and help to leave your property looking its best with minimal impact to surrounding vegetation.